Age Concern Auckland delivers a range of Health Promotion activities that provide practical knowledge on health and wellbeing topics to help older people age well and stay independent, healthy and active.
Our activities are available to those over 65 living independently and are delivered at a variety of community venues across Auckland. While free to attend, we are always grateful for koha (donations) to cover the cost of morning tea. Express your interest in attending our sessions via the form at the bottom of the page; bookings are essential.
Our Health Promoters are also available to deliver our presentations to Seniors Groups and can tailor timings to suit guest speaking slots. Enquire via the form below.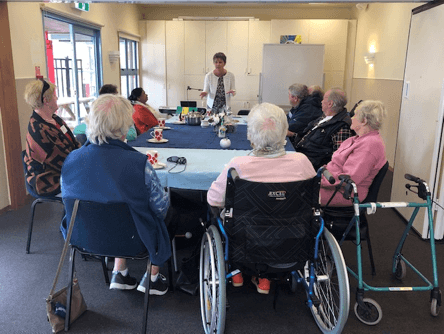 Steady Steps
One hour presentation
Introduces facts about slips, trips, falls, their likely causes and provides information on easy strategies to reduce the risk of falling
---

Improving Nutrition for Healthy Ageing
One hour presentation
Provides information on the importance of nutrition as we age and our changing nutritional needs. Includes a look at food groups and various vital nutrients, their recommended daily intake and their value to healthy ageing
---

My Home, My Choices
Two & 1/2 hour workshop
For senior home owner-occupiers, providing an opportunity to use a research-based resource to help you think through how and where you want to live during your retirement. Offers information to assist you on how to use and adapt your current home to suit your needs better if you wish to remain there


---

Technology for Seniors
Two & 1/2 hour workshop
Provides you the opportunity to get individual tuition on your devices (eg. mobile phones, tablets and laptops). Learn at your pace and find out how to do the things you want your device for (eg. Facebook, internet). Please bring your device fully charged and instruction booklets if possible


---

Improving Sleep for Seniors
Two & 1/2 hour workshop
Designed for older people who suffer from not having enough sleep and/or good quality sleep. We will explore the structure of sleep and its impact on our health. You will be provided with positive strategies and suggestions for improving your hours of quality sleep
---

Ageing Mindfully
Ninety minute workshop
(Not available on North Shore)
Supports older people to live in the present moment, cope better with ageing and the challenges that come with ageing, reducing stress, Anxiety and Depression. Introduction to the practice of Mindfulness and its benefits, including better sleep and memory
---

Information for Funeral Planning
Two & 1/2 hour seminar
Designed to empower and educate about the practical and legal issues that need to be considered when a bereavement occurs. Learn from our expert guest speaker all about planning for a funeral and the many options and choices that are available in Auckland

---
Scam Alert!
One hour presentation
Covers what a scam is, who can be scammed, the ways you can be scammed and how to protect yourself


---

Down But Not Out
Two & 1/2 hour workshop
Raise your awareness and understanding of Depression and recognise its differences from the 'blues'. Suggestions for coping and learn how, when and where to seek help. We will also explore how to have a flourishing life in our later years. Aimed at those seeking information for themselves or people they care about. Participants can be assured of a confidential, non-threatening and supportive environment


---

Introduction to Facebook
Ninety minute workshop

Learn step-by-step how to create your own Facebook profile and how to call/chat with friends and whānau via Facebook Messenger. We will also cover how to stay safe whilst using Facebook and protecting your privacy. Please bring your device fully charged
---

Introduction to Zoom
Two & 1/2 hour workshop
Provides an introduction to Zoom, how to use it for basic purposes with tips, tricks and advice on Zoom etiquette. We will also cover how to set up your own Zoom account and arrange a meeting. Bring your own device fully charged, and we will work together in a small group to help get you using Zoom comfortably


---

Staying Safe - for senior drivers
Three hour workshop
Driver refresher workshop designed to fine tune your safe driving knowledge and keep you up-to-date with road rule changes. Staying Safe is classroom-based and uses information and material provided by Waka Kotahi (New Zealand Transport Agency). This off-road course covers four key themes and you won't be tested:
Keeping Safe (thinking about your safety)
Being Safe (driver skills)
Safe Journeys (managing road situations)
Keep Moving Safely (alternatives to driving)
---

Advance Care Planning
Two & 1/2 hour seminar
Advance Care Planning (ACP) is a way to help you think about, talk about and share your thoughts and wishes about your future healthcare. Now is the best time to consider taking part in ACP conversations before a possible serious illness. Planning will help you and those around you understand what is important to you and what treatment and care you would like. Join us and listen to our expert guest speaker who will help you understand what ACP is and how to set up a plan
---

Enduring Power of Attorney and Wills
Two & 1/2 hour seminar
Who will manage your affairs if you are no longer able to? Have you caught up with the changes made to the Power Of Attorney legislation which may affect you and your whānau? Come along and find out from our expert guest speaker about Enduring Powers of Attorney and learn what you need to think about to create and/or review a will
---
Positive Steps
Four week programme
(Not available on North Shore)
Aims to support older people to help retain their independence and maintain their health and wellbeing. You will be provided with useful information and guided through some gentle exercises
---